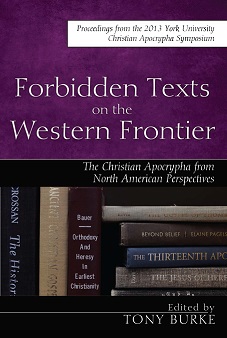 North American study of the Christian Apocrypha is known principally for its interest in using noncanonical texts to reconstruct the life and teachings of Jesus, and for its support of Walter Bauer's theory on the development of early Christianity. The papers in this volume, presented in September 2013 at York University in Toronto, challenge that simplistic assessment by demonstrating that U.S. and Canadian scholarship on the Christian Apocrypha is rich and diverse. The topics covered in the papers include new developments in the study of canon formation, the interplay of Christian Apocrypha and texts from the Nag Hammadi library, digital humanities resources for reconstructing apocryphal texts, and the value of studying late-antique apocrypha. Among the highlights of the collection are papers from a panel by three celebrated New Testament scholars reassessing the significance of the Christian Apocrypha for the study of the historical Jesus. Forbidden Texts on the Western Frontier demonstrates the depth and breadth of Christian Apocrypha studies in North America and offers a glimpse at the achievements that lie ahead in the field.
Contents
Foreword–Christoph Markschies
Introduction—Tony Burke
North American Approaches to the Study of the Christian Apocrypha on the World Stage—Jean-Michel Roessli
The "Harvard School" of the Christian Apocrypha—Brent Landau
Excavating Museums: From Bible Thumping to Fishing in the Stream of Western Civilization—Charles Hedrick
Scriptural Trajectories Through Early Christianity, Late Antiquity, and Beyond: Christian Memorial Traditions and the longue durée—Pierluigi Piovanelli
Jesus at School among Christians, Jews, and Muslims—Cornelia Horn
Nag Hammadi, Gnosticism, Apocrypha: Bridging Disciplinary Divides—Nicola Denzey Lewis
Canon Formation: Why and Where Scholars Disagree—Lee Martin McDonald
Apocryphal Gospels and Historical Jesus Research: A Reassessment—Stephen J. Patterson
Apocryphal Gospels and the Historical Jesus: A Response to Stephen Patterson—John Kloppenborg
Apocryphal Gospels and the Historical Jesus: A Response to Stephen Patterson—Mark Goodacre
The Distinctive Sayings of Jesus Shared by Justin and the Pseudo-Clementines—F. Stanley Jones
The Tiburtine Sibyl, the Last Emperor, and the Byzantine Apocalyptic Tradition—Stephen J. Shoemaker
Confused Traditions? Peter and Paul in the Apocryphal Acts—David Eastman
Digital Humanities and the Textual Critic: Resources, Prospects and Problems—Kristian Heal
The Conversion of Paul: The Production of a Model—Glenn Snyder
Preview available at the Wipf & Stock web site.
Endorsements and Reviews
"Studies of the Christian Apocrypha are coming of age in North America, and this volume clearly outlines the contours of such an emergence into adulthood. These essays cover many of the major issues in contemporary apocryphal studies, ranging from debate over definitions to the practicalities of digital editions. The chapters on the distinctive contribution of North American study of the Christian Apocrypha are particularly interesting and provocative." ~ Stanley E. Porter, President and Dean, Professor of New Testament, Roy A. Hope Chair in Christian Worldview, McMaster Divinity College
"Burke has brought together a fascinating collection of essays that not only sheds light on the writing that forms the Christian Apocrypha but also provides deep meta-level reflections on the forces that influence the way those texts are studied in the North American context. Much that is discussed is richly insightful, and often the reflections on scholarship are probing and controversial. This is essential reading for those interested in the Christian Apocrypha and early Christianity." ~ Paul Foster, Professor, New Testament Language, Literature & Theology, School of Divinity, University of Edinburgh
"As this book shows, scholars in North America have much to contribute to the study of the Christian Apocrypha. Some contributors reflect critically on the particular circumstances in which they operate, arising from the interplay between faith commitments and historical scholarship in the academy, the church, and in popular culture. Others foreground and advance the discussion of a number of apocryphal texts. Their essays make a significant contribution to the study of early Christian literature."
~ Andrew Gregory, Chaplain & Pro-Dean for Welfare, University College, Oxford