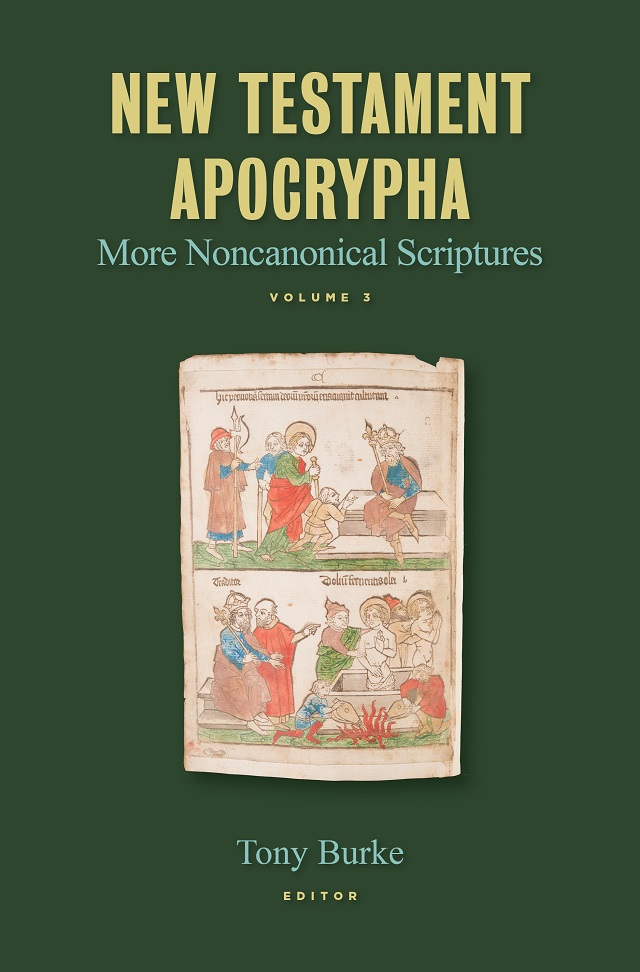 An expansive compilation of New Testament apocrypha in English translation, featuring fascinating but heretofore unpublished texts. 
New Testament Apocrypha, vol. 3, continues the More New Testament Apocrypha series' quest to unearth the vast diversity of Christian scripture outside of the traditional canon. This new collection encompasses a broad range of languages—Greek, Church Slavic, Old English, Coptic, and more—and spans centuries, from the formation of the canonical New Testament to the high Middle Ages.
The selections here represent some of the least studied apocryphal texts, many of which have not previously received an English translation or even a critical edition. Notable newly edited and translated selections include the Martyrdom of Zechariah, the Decapitation of John the Forerunner, the Birth of John, the Revelation about the Lord's Prayer, and the Dialogue of Mary and Christ on the Departure of the Soul. 
Each text is accompanied by a robust introduction, bibliography, and notes. Scholars of apocrypha, Scripture, and hagiography from a breadth of disciplines will find this an indispensable reference for their research and teaching.
For ordering information, visit Eerdmans.
PREVIEW (introduction and front matter)
CONTENTS
1. Gospels and Related Traditions of New Testament Figures
The Hospitality and Perfume of the Bandit—Mark G. Bilby
The Gospel of the Twelve—James Toma
The Dialogue of Jesus and the Devil—Chance E. Bonar and Slavomír Céplö
The Story of the Image of Edessa—Nathan J. Hardy
The Dream of the Rood—Alexander D'Alisera and Samuel Osborn
The Eremitic Life of Mary Magdalene—Brandon W. Hawk
The Martyrdom of Zechariah—Tony Burke and Sarah Veale
The Decapitation of John the Forerunner—Tony Burke
2. Apocryphal Acts and Related Traditions
The Acts of Andrew and Paul—Christian H. Bull and Alexander Kocar
The Acts of Andrew and Philemon—Ivan Miroshnikov
The Story of John Meeting Cerinthus—Lorne R. Zelyck
The Acts of John in Rome—Janet E. Spittler
The Acts of John by Prochorus—Janet E. Spittler
The Memorial of John—Rick Brannan
The Martyrdom of Mark—Tobias Nicklas
The History of Paul—Jacob A. Lollar
The Preaching of Simon Cephas in the City of Rome—J. Edward Walters
The Disputation of Peter and Nero—J. Edward Walters
The Acts of Christ and Peter in Rome—Julia A. Snyder and Slavomír Céplö
The Passion of Peter and Paul—Carson Bay
The Preaching of Philip—Ivan Miroshnikov
3. Epistles
The Epistles of Ignatius, John, and Mary—Gregory Given
The Epistle of James to Quadratus—Brent Landau, Bradley Rice, and J. Edward Walters
The Epistles of Longinus, Augustus, Ursinus, and Patrophilus—Tony Burke
4. Apocalypses
The Revelation about the Lord's Prayer—Peter Tóth
The Dialogue of Mary and Christ on the Departure of the Soul—Christine Luckritz Marquis
The Questions of John (Interrogatio Iohannis)—Stephen C. E. Hopkins
1 Revelation of Matthew about the End Times—Stephen Pelle
2 Revelation of Matthew about the End Times—Charles D. Wright and Stephen Pelle